MPEG-5 LCEVC Showcase
at IBC Show 2023
RAI Amsterdam Hall 5
Booths A24 and B40
Available demos at the Showcase
The booths will feature demos to show practical use cases of LCEVC-enhanced content in Encoders, Video SOCs & TVs, Platforms & Players, VR/XR and Cloud Gaming.
Encoders
Widespread support for LCEVC enhancement from a range of industry leading encoding solutions
Higher quality and resolutions at up to 40% lower bitrates

Up to 70% lower complexity provides faster, higher density and more sustainable encoding

Encode for all devices in a single workflow with backwards-compatible streams
Video SOCs & TVs
LCEVC secure decoding on major video chipsets and on TV and STB platforms
Enable the best video experience to TV and STB

Leverage capabilities of existing chipsets

Ready to use silicon IP for next generation chipsets
Platforms & Players
LCEVC encoding and decoding is available at application level for web players, Android, iOS, and Apple TV
High-quality, low latency, cost-efficient delivery

Faster, better-quality upload of UGC from mobile

Scalable delivery of higher-resolutions and HDR
VR/XR & Cloud Gaming
LCEVC is available on NVIDIA GPUs for cloud gaming and pixel streaming at scale reducing latency
Improve the video compression performance up to 40% even for ultra-low latency use cases

Supported on existing devices (PCs, mobiles, tablets, VR HMDs)

with simple app-level updates

Deliver photorealistic 6DoF VR and gaming experiences from the cloud
Sessions featuring MPEG-5 LCEVC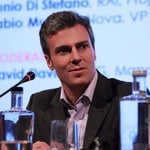 Speaker
Fabio Murra
SVP Product and Marketing

V-Nova
Product Presentation
Enabling next-generation broadcast delivery of the FIFA World Cup with MPEG-5 LCEVC
During the FIFA World Cup, Globo put a number of companies and technologies together to showcase the potential of the TV 2.5 and TV 3.0 in delivering higher quality services to Brazilian consumers. For the first time these technologies were used in a complete end-to-end production to provide 4K HDR video with immersive and personalized audio.
Date
: Saturday 16th September
Time:
10:15
Place
: Stage 1 ( Stand 5A.28)
Panel Session
High performance sporting case studies
Live sports are consistently among the most valuable forms of media content. As broadcasters, sports streamers and tech giants battle it out and invest heavily to secure high profile media rights, they need reliable, efficient and scalable technology to ensure rock-solid live coverage across traditional linear distribution and digital viewing platforms. This session will look at three case studies showing how streaming technologies are augmenting coverage of for top-tier sports including cricket's Indian Premier League and the FIFA World Cup 2022.
Panellists
Venugopal Iyengar
, COO Digital, Planetcast International

Fabio Mura,
SVP Product Marketing, V-Nova Services

Tobias Froehlich
, Chief Product Officer, TeraVolt
Date
: Sunday 17th September
Time:
11:15
Place
: Stage 2 ( Stand 5H.75)
These companies support
the MPEG-5 LCEVC Showcase at IBC23
This year, at IBC23, the MPEG-5 LCEVC showcase will bring LCEVC-based use cases across broadcast, pay-tv, streaming and XR/VR, all powered by solutions from different vendors, including encoders, media players, cloud transcoders and online video platforms.
Intel and the Intel logo are trademarks of Intel Corporation or its subsidiaries.
Phone App encoding for UGC* upload
Key Features
Quality improvement compared to native phone encoder

More robust. Aggressive bitrate reductions, even on challenging UGC, cutting the upload time

Publishing Time reduced by 25% to 50%, depending on codec

Storage requirements and costs reduced by 30-50%

Deployed with an App update
Real-time encoding/transcoding for premium live sport events
Key Features
LCEVC

improves

the compression efficiency of

existing encoders by

up to 40%

For streaming providers, LCEVC's compression efficiency translates into 20% delivery cost savings while achieving a higher quality
LCEVC Scalable option, enables cost-effective delivery of UHD channels atop existing HD broadcasts
HDR delivery with a

retro-compatible

SDR stream for mobile
Key Features
Add

an HDR enhancement layer on top of an existing SDR '

base

', and eliminate the need for workflow duplication

Up to 80% saving on storage compared to producing a separate standalone HDR file
Reduces processing needs compared to having to produce the separate HDR file
Offline transcoding of premium content
Key Features
LCEVC uplifts video quality at any operating point, while reducing the delivery and storage costs by up to 20% in adaptive streaming scenario

Reduced Compute costs and energy usage in transcoding; speed-up (re)transcoding of the VOD library by up to 3x on slower codecs

LCEVC Scalable option to enhance HD into UHD
Key Features
Compression Efficiencies: up to 40% better compression than AVC or HEVC alone
LCEVC is added as a software decoder update, on existing target devices
Key Features
Up to 40%

better compression than HEVC alone

. This enables

high-quality streaming of photorealistic XR experiences

LCEVC capability can be added to next generation and also existing VR HMDs such as Quest 2 or Pico 4 as a software application
V-Nova is committed to unlocking higher picture quality at scale. Our relentless investment in R&D has built a portfolio of over 600 international patents. Our technologies are now international standards recognized by MPEG, ISO and SMPTE.
Want to be part of the team?
Email us: recruitment@v-nova.com